AltStore from Riley Testut is the new standard to sideload IPA files on iPhone/iPad. AltStore utilizes the AltServer companion application installed on a computer to sign-in IPAs on your iOS device through iTunes Wi-Fi Sync. As you can see a computer with AltServer installed on it is mandatory to install, sign-in, and refresh apps via AltStore.
However, soon a PC/Computer might be removed from the equation at all; at least for jailbroken iOS devices. The entire credit to this goes to AltDaemon, a daemon being developed by the AltStore team. AppValley Companion on Windows [No Revokes].
What is AltDaemon?
AltDaemon is a daemon that will be installed on iOS devices using AltStore. The daemon will act as a local AltServer and continuously run in the background allowing AltStore to be in a sandboxed state and run on a non-jailbroken iOS device as well. This is essential as for the initial run you have to sideload the UnC0ver Jailbreak app to jailbreak your iPhone/iPad.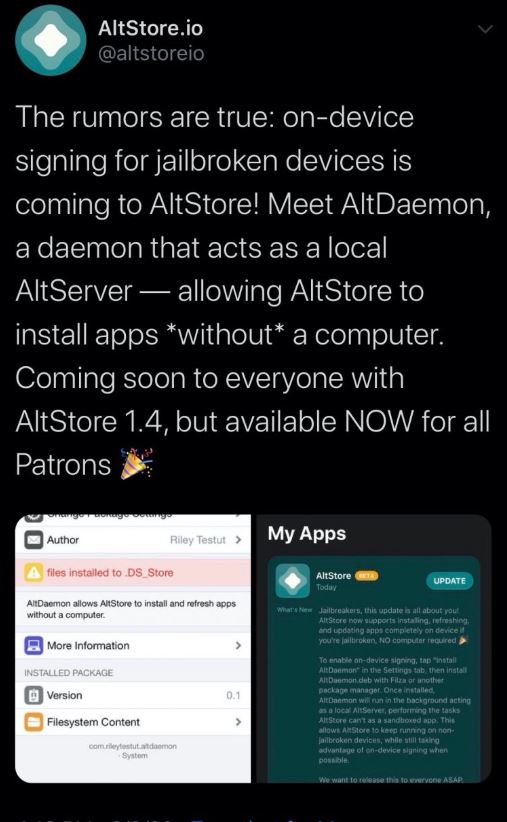 Please note that, as of now, AltDaemon supports refreshing, installing, and updating iOS apps on-device without the need of a PC only on a jailbroken iPhone/iPad.
Install AltDaemon – Sign Apps from AltStore [No PC]
The developers behind AltDaemon have made it available right now only on AltStore Beta 1.4 for the patreons. So, if you are a patron you can follow the below steps to install the beta version of AltDaemon on your iPhone/iPad.
As a first, you require installing AltStore Beta 1.4 from the Beta Program.
Launch AltStore Beta 1.4 and make your way to the Settings tab.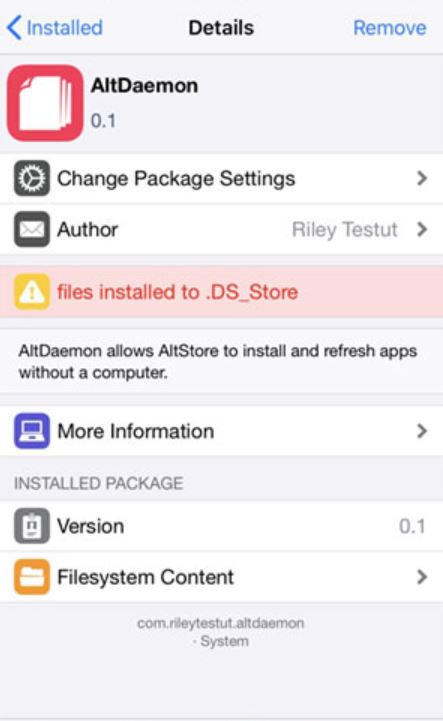 Under Settings, you will spot an option

Install AltDaemon

under the

Jailbreak

head.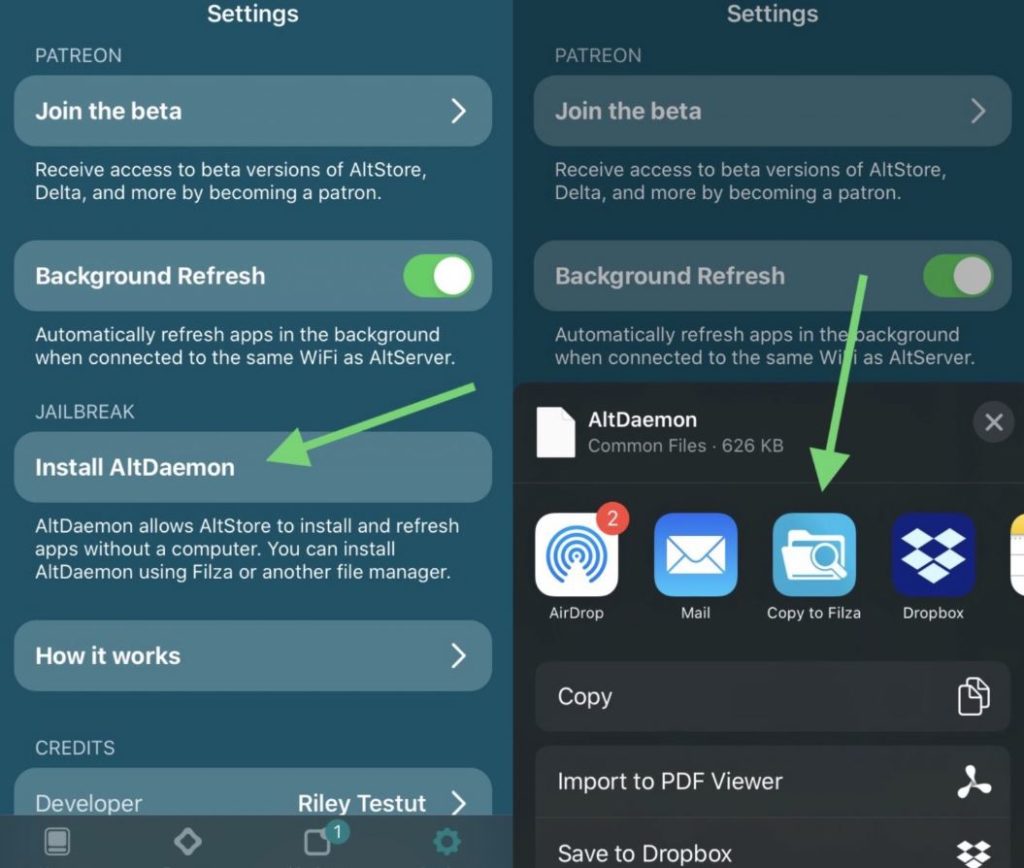 Please tap on the same and utilize Filza or any other package manager of your choice to install the AltDaemon Beta DEB file on your iPhone/iPad.
When will AltDaemon be available as a public release?
AltDaemon, as mentioned in the beginning, completely removes the PC from the equation for signing apps. Traditionally, you will have to connect to the PC with AltServer installed on it to refresh your applications after every seven days. However, with AltDaemon, the same is not necessary now as the locally installed daemon will take care of the app refreshing as well. This definitely brings in a lot of conveniences at least, as of now, for the jailbroken iPhone/iPad users.
AltDaemon will be available to the public when AltStore 1.4 will witness a public release. Seeing the current set of events, it won't be long for that to happen. Currently, AltDaemon is in the Beta testing phase under the AltStore Beta Patron program. Based on the feedback received, the developers will make necessary inclusions and fix reported bugs paving the path for a priority public release of AltDaemon with AltStore 1.4.
Check this out:
AltDaemon – On-Device Signing of iOS Apps [Jailbreak Needed]
AltDaemon is a breakthrough development. When Cydia Impactor started going through a whole lot of issues on newer iOS versions; AltStore showed the light to the users in terms of sideloading iOS apps. Now, with the team of AltStore bringing in AltDaemon; it completely shows their dedication towards developing useful apps and tweaks for their users. Stay tuned with us and you will be the first to know about the public release of AltDaemon.