Are you worried about your iOS devices not having the storage space to incorporate all the apps that you wish to have? Here comes an amazing app, xCleaner for iOS which cleans up all those unwanted data and clear up storage space of your iOS devices in no time. Whether it is to detect defective files or remove unnecessary ones, xCleaner for iOS is the perfect solution. Since iOS devices do not come with a slot for external storage devices, it is always better to take out the trash files regularly and this app ensures that it is done.
Previously, xCleaner was only available on iOS by jailbreaking the device. Now you don't even have to consider jailbreak as an option. xCleaner, being a tweaked app can be downloaded without jailbreak using AppValley for iOS, which is a third party app installer. AppValley for iOS is the best one in the market because of its wide collection of apps and games. xCleaner for iOS is available for free using this app installer. Some of the features of this app are  discussed in this article.

Also, a method to install xCleaner using AppValley for iOS is also given later in this article.  Must Read: How to Remove/Uninstall AppValley Developer Profile from Settings (GUIDE).
xCleaner for iOS (iPhone/iPad) | Features: 
xCleaner for iOS offers you thorough cleaning of your iDevices off unwanted files, caches, cookies and many obsolete contents. This is the best app that you can trust to serve this purpose. Let us look at some of the features of xCleaner for iOS.
1) While deleting media contents from your device, there may be some sort of irrelevant files still left. xCleaner cleans this junk file on deleting the item.
2) It regularly clears the cached files, cookies, ad-file junk and history from the browser on your iOS device.
3) When you uninstall certain apps from your iOS, some of the preference files, caches etc may still exist. xCleaner helps you clean this from the system and hence increases the device performance.
4) Many temporary files which are actually meant to get removed on its own may still remain on your iDevice. With xCleaner, you can erase them all.
5) The app has a great user interface. It is simple and efficient at the same time. Also, while deleting files, it does not interfere with any of the necessary files.
And many more. With xCleaner, cleaning up iOS devices has become so easy and safe.
Download these Amazing Apps using AppValley:
How To Download and Install  Install xCleaner on iOS using AppValley
xCleaner is the best app available right now to take out all the trash from your iOS devices. It helps in boosting the device performance. But since xCleaner is a tweaked app, it can be downloaded only with the help of a third party app installer and that is why we have AppValley. AppValley for iOS offers you wide variety of modded, tweaked and paid apps for free and without jailbreak. Let us see how we can install xCleaner for iOS using AppValley.
1) Firstly, you will have to open the link given below, which takes you to the official AppValley website. An Install option can be seen on the homepage. Click on it and proceed.
2) A confirmation window may pop up asking for confirmation to install AppValley for iOS on your device. Simply tap on Install and the download process will begin shortly.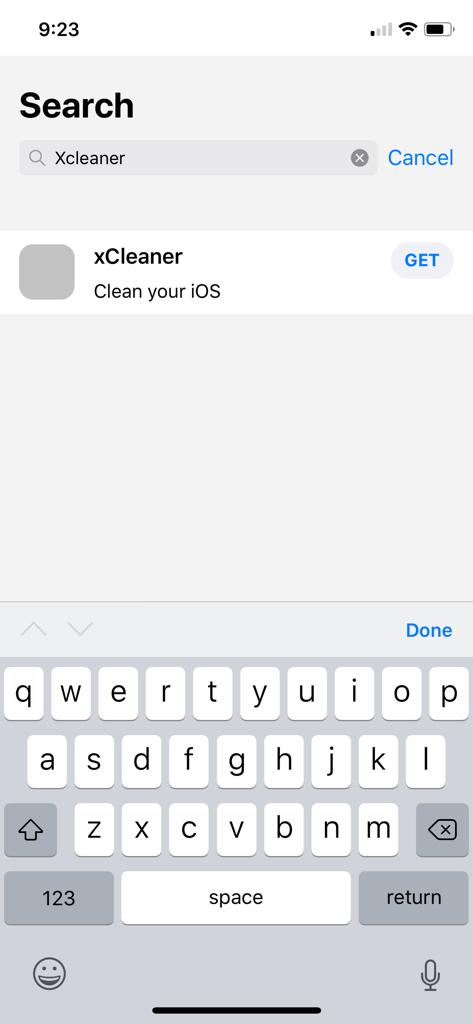 3) Next, open your device Settings. Look up for Profile and Device Management option under General tag. Tap on it and trust AppValley.
4) Now, you need to launch AppValley for iOS and at the top, you will see a Search bar. Type xCleaner on it.
5) From the results displayed, tap on xCleaner and you will find a Get/Install option next to it. Tap on it and the app will start downloading.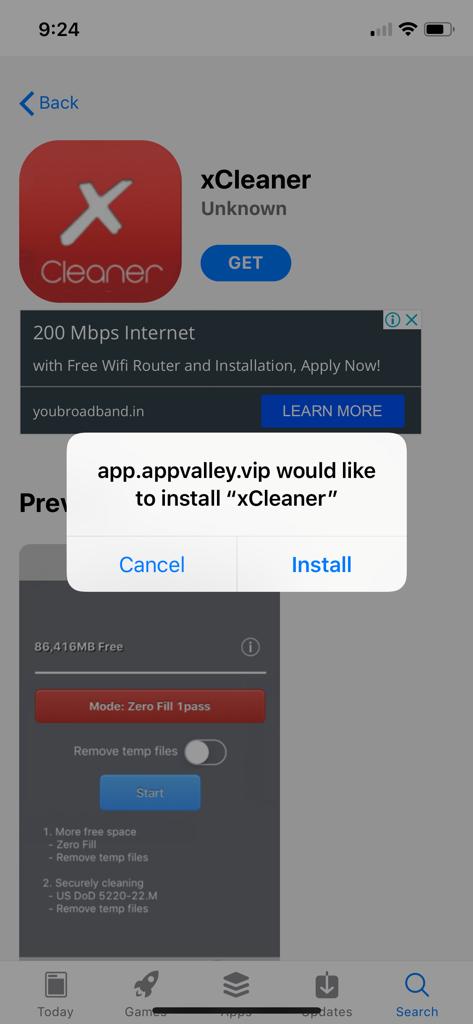 6) Once the download process is complete, go to the device Settings. Then tap on Profile and Device Management option and trust xCleaner app. Must Read:  Download MovieBox PRO VIP Free on iOS (MBP via AppValley).
xCleaner for iOS (iPhone/iPad) using AppValley
Your xCleaner is ready for use. The app is pretty user-friendly. xCleaner also helps in scanning damaging files. By removing these, you can improve the speed of your device. There are many such apps that AppValley for iOS provides. Don't miss out on any of those amazing apps. Hope you found this helpful.