In its earlier days, Instagram was merely a photo-sharing application. However, with passing time, Instagram has come up as the most popular social media application defeating Facebook as well as Twitter. Even online businesses are extremely keen on marketing their brand on Instagram. In this post, we are going to share with you the steps to download Instagram++ on the iPhone/iPad, which is a tweaked version of the stock application and contains a multitude of additional features.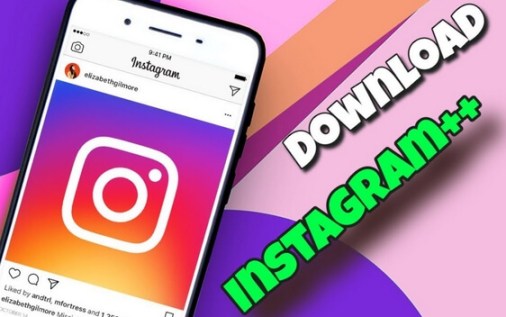 You require to download AppValley, which is a 3rd party application store, on your iPhone/iPad for this purpose. AppValley houses a ton of other modified and tweaked iOS applications as well which do not get a chance to feature on the official Apple App Store due to Apple's stringent policies and guidelines. Following are the additional features that you will get with Updated Instagram++. These features are not available in the stock Instagram application.
Please note that you cannot keep Instagram as well as Instagram++ installed on the same phone. You have to let go of the stock application before installing Instagram++. Also, Check YouTube++ Download on iPhone/iPad .
Instagram++ on iOS – Features
Latest Instagram++ lets you hide comments in full feed view, spoof followers, as well as the following count, hide bio info in profile and view the Instagram application in full-screen view. The following are some more features that come with Instagram++. Another fantastic tweaked app from AppValley: SnapChat++ on iOS.
Share videos/photos using a built-in iOS share sheet.

Download videos/photos to your iOS camera roll.
Double-tap on thumbnails to share/download.
Re-Gram videos and photos.
Download media.
Copy/Share Text.
Always play video sound in the full feed.
Confirm double-tap to like.
Password protects the Instagram app.
Disable DM read receipts.
Manage multiple Instagram accounts.
| | |
| --- | --- |
| App Name | Instagram++ |
| Size | 77.32 MB |
| Version |  v4.3 |
| Last Update |  9th August 2022 |
The following are the steps to install Instagram++ on iPhone/iPad from AppValley. Please note that you do not require jailbreaking your iOS device for installing and using Instagram++.
Let's start the discussion on step by step procedure to this awesome application with our favourite Apps Store.
Install Instagram++ on iOS [AppValley]
As a first, please launch the Safari browser and navigate to the following URL.
Alternative Link1:   Direct Download Config Profile Link 1
Alternative Link 2:     Alternative Download Link 2
Alternative Link 3:     Alternative Download Link 3
Alternative Link 4:    Alternative Download Link 4
Wait for the webpage to load and you will see a button 'Install AppValley.'
Tap on the button and your iOS device will pop up a message stating that the webpage wants to redirect to 'Settings' in order to install the profile of AppValley. Please allow it to do so and install the profile of AppValley on your iOS device.

Once the profile installation is successful, please trust the same, and launch AppValley on your iOS device.

AppValley Screen on our Device

Search for Instagram++.

Instagram++ Install on iOS – AppValley

Install Instagram++ in the same way you install an application from the official App Store.

Install Instagram++ on iOS – AppValley

Don't forget to trust the profile of Instagram++ prior to launching the application.
Install Instagram++ via Altstore [

WORKING

]
Instagram++ hack app can also be installed on any non-jailbroken device. But you need to sideload the Instagram++ app via tools like AltStore. Also, it is not possible to install both the apps Instagram and Instagram++ on the same device. So you need to delete the Instagram app before you proceed with the installation on Instagram++.
Detailed instructions to install Instagram++ on a non-jailbroken device is as follows:
The first step is to install AltStore on your computer and your iOS device. You can follow the below-given link to download Altstore on your iOS Device.
Install AltStore on your computer using the Zip file downloaded from the official website of the AltStore.
Once you have installed AltStore on your computer, connect your iOS device (iPhone/iPad) to the computer.
After the device is connected, you have to open/unlock the iOS device and tap on the Trust button in the prompt.
Then choose the AltStore icon on your computer and tap on install. This will install the AltStore app on your iPhone from the computer.
Once installed, open the settings. Then General. From General, choose Profiles and Device Management. Tap on the Trust button near the AltStore profile.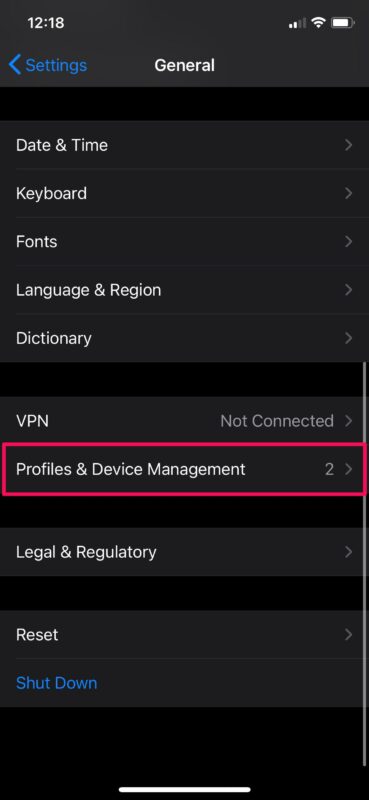 Now you have to download Instagram++.IPA file from the official website or from any trusted website.
Open the AltStore app on your iOS device and click the "+" icon. Now select the downloaded .IPA file of Instagram++.
Now the AltStore will start installing the Instagram++ app. It might take few minutes. After the installation process is over, you can find the Instagram++ app in the My Apps section in the AltStore app.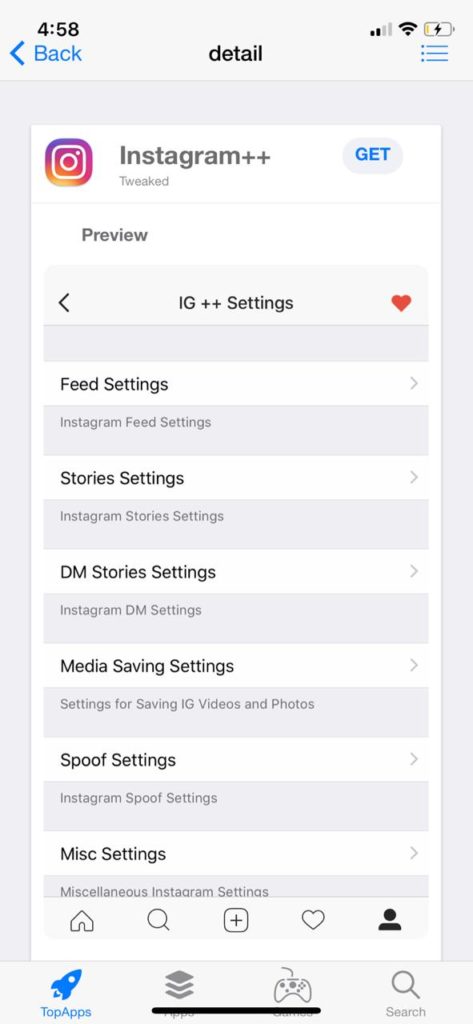 Now you can launch the Instagram++ app and enjoy all the new features of the app.
Note: Your iOS device will prompt for your Apple ID and Password when you install the AltStore for the first time. It is used for generating a signed certificate to install the app.
Install Instagram++ on Jailbroken Device
Installing Instagram++ on a jailbroken device is easy as pie. Follow the below simple steps to install Instagram++ and without much hassle using Cydia.
Launch the Cydia and open the Sources tab.
Click the Edit button on the top right corner. Tap on Add button.
In the source, textbox adds the URL – https://beta.unlimapps.com.
After adding the source, tap on the search bar. Now search "Instagram++".
From the result choose Instagram++ and the installation will start.
After installing the Instagram++ app, launch the app and enjoy its features.
Error Alert: If you encounter the "AltStore server cannot be found" error then just re-install the AltStore app.
Best Alternatives of Instagram
Instagram is a social media application loved by the current youth. It allows you to share digital media such as images and videos with your friends, families and followers. You have amazing features on Instagram such as liking, sharing and even commenting. The simplicity of limiting the application specifically for using it to share media makes it unique. But still, there are many features that are not available. This would turn up your mind to look at some alternatives. There isn't any harm doing so, right?
We have handpicked some interesting alternatives of Instagram on iOS. Look at the list below:
This application allows you to send media that can be either an image or a video to your friends. By default the media remains available only for few seconds, you can save it in chat if you want to.
Pinterest
Pinterest is a ride of addiction. If you love exploring new stuff and perspectives of people around the world, then you have landed the right choice.
Tumblr
They say old is gold, then Tumblr is the gold mine of social media. It is a great alternative to Instagram and has a huge fan following.
Imgur
Imgur is a media sharing platform that allows you to gain popularity by sharing your images and videos. It doesn't have many features but can stand a great competition against Instagram.
This young generation application has become a sensation all around the world with its simplicity. One among the great alternatives, TikTok makes the top list without any question.
Make sure to use the above application and give your thoughts. Till then happy surfing.
How to uninstall Instagram++ from your device?
If you want to uninstall Instagram++ on your device and install the original one, just follow the steps.
First of all, go to your Homescreen.
Now go to the Apps deck.
Once you have done that, tap and hold the Instagram++ icon.
Click on delete the App and continue.
[FIX] if Instagram++ on AppValley gets crashed?
Instagram++ is a modded version of the app. It is downloaded from an external source like AppValley which is not allowed by the Apple servers. Hence, within a few days after the download, there is a chance that the app may get crashed. This arises when the app certificate is revoked by Apple. If you wish to avoid such a situation, you should get a VPN before downloading AppValley and any apps from it. This will prevent the servers from identifying the app certificate. The VPN will efficiently hide it and you can get apps without crashing.
Frequently Asked Questions
Q - What are spoof settings in Instagram++ iOS?
Spoof settings are used to fake your followers count, media count, and get your account verified tick yourself. But these things are visible only to you. To use the spoof settings, IG++ settings -> Spoof Settings -> Followers Spoof / Media Spoof. You can use this feature just to trick your friends and have fun.
Q - How to disable stories auto-advance in Instagram++?
You can disable stories auto-advance in Instagram++ by going to IG++ settings -> DM Stories Settings -> Disable auto-advance. This will prevent stories from advancing automatically. After enabling this option you can just swipe to the next story manually.
Q - Can we disable screenshot notifications in Instagram++?
Yes, you can disable screenshot notification by IG++ Settings -> DM Story Settings -> Disable Screenshot Notification. Now no one will be notified if you take screenshots of the images they sent you in private.
Check this out:
Final Words: Instagram++ Download on iOS [MOD]
These were the steps to install Instagram++ on iPhone/iPad from AppValley. If you face any kind of issues while installing the application, please let us know about the same in the comments section provided below.
Thank You.