If you are an iOS user, you would probably find it difficult to manage files using the default file manager. The file manager is restricted to performing only basic operations like moving or copying files. It does not provide full access to your iDevice.
This demands a better file manager and here we are going to discuss the best one for your iOS device. FilzaEscaped for iOS is a great file manager with a high performance and user interface. It makes the process of modifying, moving, and creating files so easy
In this article, we provide you with a method to get FilzaEscaped for iOS using AppValley. Must Check Article: FilzaJailed on iOS | Download FilzaJailed on iPhone/iPad with AppValley.
FilzaEscaped for iOS | Features:
FilzaEscaped for iOS is an awesome file manager that will give you access to anything and everything on your device. Let's see how this file manager is different from the default one and the advantages they offer.
FilzaEscaped is very useful, as you can remove any unwanted file from your device, no matter what format it is in.

 You can open dotfiles, extract files, modify them and change the file type.
System files can be read and modified directly using this app.
Any app files can be opened and edited. This way, you can download any app on iOS without causing damage to the system.
Some of the obsolete files, ad files, junks, and caches will remain in the device which can be easily removed using FilzaEscaped.
Must Read: FilzaJailed on iOS(iPhone/iPad) – No Jailbreak – AppValley.
Install FilzaEscaped for iOS using AppValley
FilzaEscaped is the most efficient file manager for iOS that can even be used to customize your iDevices as you like. AppValley is the best app installer from which you can get this app. You need to follow the instructions given below to download FilzaEscaped for iOS without jailbreak.
As a first step, you need to have AppValley on your iOS. Open the Safari browser and go to the link given here below and install AppValley. 
The home page shows an Install button. Click on it to download FilzaEscaped on iOS.
Once the download process is complete, you are required to change some settings. So now you need to open Settings and click on Profile & Device Management option. Turn on the Trust AppValley option.
Now you need to launch AppValley on your iOS and on the search bar, look for FilzaEscaped. 
The app will come up on the screen. An Install button can be seen along with it.
Click on it and download the app.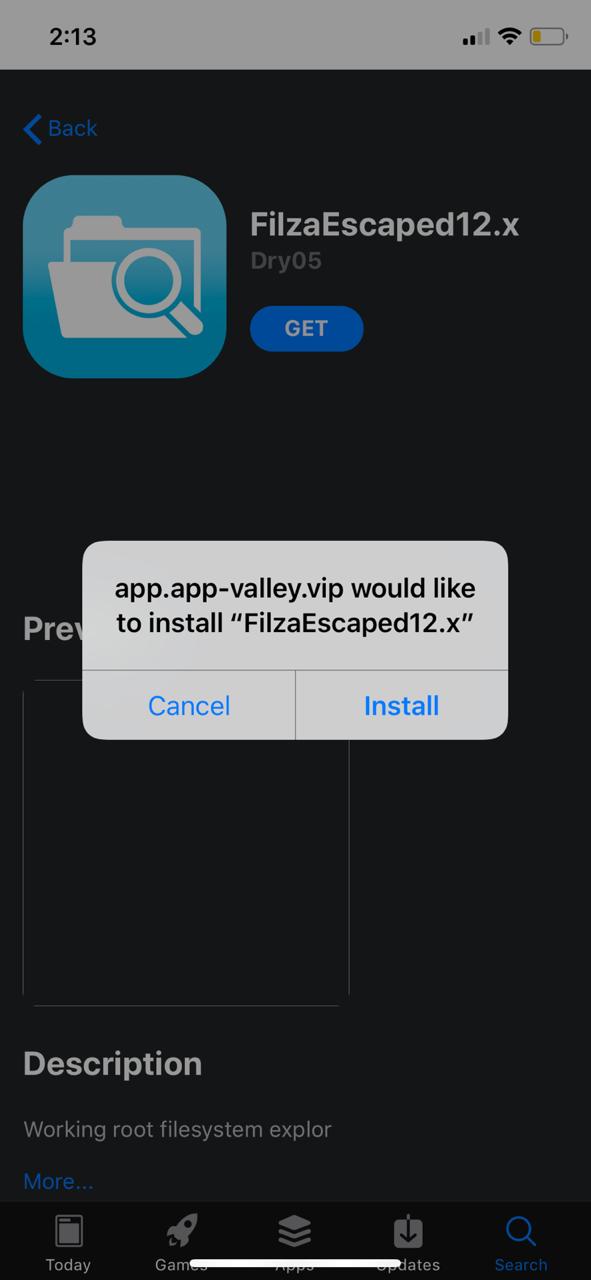 When the installation is over, you are required to open Settings and tap on Profile & Device Management option. Turn on Trust FilzaEscaped option and you are done.
Best FilzaEscaped Alternatives for iOS 
FilzaEscaped is a great app management and file management software that will let you manage files with ease. With many amazing features like holding files in pasteboard, transferring file without any security issues, etc. Here are some alternatives of FilzaEscaped on iOS.
iStorage 2HD
iStorage 2D is a great organizing application that will allow you to set all your file managing things in set. So, with the ultimate power in your hand, you can control all your file managing options with finger tips.
Files Pro
It is a multifunctional device document manager designed for all your iDevice needs. You can transfer data from one folder to another, one device to another within seconds.
iFile
iFile is a handy software for all your device management requirement. It is a powerful application, and as the name suggests, it is designed for all your iDevices. You can customize your needs and control the permissions of app within seconds.
FtpMate
FTPMate is a FTP client designed for all iOS device to send files and provide a decent file managing system. With FTPMate you can access to files on different servers also along with local files and documents.
Frequently Asked Questions
1. What is Filza on iOS?
Filza is one of the best application for file managing. You can also use this application for managing several files and other applications on your iOS device. Due to a lot of security procedures it becomes difficult to trust any file manager, that's why Filza is one of the best one.
3. Do I need to jail break my device to download FilzaEscaped?
No, you do not have to jail break your device to download FilzaEscaped. It is just a file managing application that allows users to manage the files in the device. You can also keep the track of all the apps, their settings, etc.
4. FilzaEscaped stopped working on iOS device, it crashed, what to do?
If FilzaEscaped application stops, try to reinstall it and use, it will start working.
Check this out:
Download FilzaEscaped on iOS 14+ [iPhone/iPad]
Filza has many different versions and among them, FilzaEscaped for iOS is most suitable for iOS 11.2 to iOS 14. However, it is not available on the Apple app store. But the good news is, you can now get it for free using AppValley. With this app installer, you can get any modded app on your iOS without jailbreaking your device. You can access your iOS device completely using FilzaEscaped and modify any property as you wish. Hope you enjoyed the article and if you come up with any errors, just ping via comments.