Twitter is a great social networking platform these days. Almost all topics and ideas are discussed as Tweets in this amazing app. You can share ideas, post photos and videos on Twitter. There are, however, few things that are missing in this app, and Twitter++ for iOS is a modified version of the app that offers you many amazing features like downloading or sharing tweets easily to other social media apps, etc.
Since this is a modded app, you cannot install Twitter++ from your app store. You will need a third-party source and AppValley for iOS is the best app installer that you can depend on to get any modded or tweaked apps on your iDevices without jailbreak.
All the apps and games are available for free. We have given the method to get Twitter++ for iOS using AppValley in the coming sections. Social Media Tweaked App: Facebook++ iOS App Download.
Twitter++ for iOS | Features
Twitter needs no introduction. It is the best social networking app that lets you share your hobbies, interests, and ideas through posts, videos or photos. You can also speak your opinions on anything related to the world around you. Let us look at some of them.
You can now download photos, videos, or any media to your iOS using Twitter++.
It lets you forward the tweets directly to other apps or as messages easily by tapping and holding the tweet you wish to share.
If you find a link among the tweets, you can open it on your default browser directly.
The app will confirm whether you want to add a tweet as a favorite.
You can remove follow option from the tweets to avoid unnecessary ones.
If you wish to post a tweet of more than 140 characters, the app will let you post them as an image.
| | |
| --- | --- |
| Name | Twitter++ |
| Developer | UnlimApps |
| Category | Tweaked Apps |
| Version | v8.33 |
| Size | 78.68MB |
Twitter++ for iOS is a modded app that compensates for all the restrictions that the original version offers you.
How To Install Twitter++ for iOS using AppValley
AppValley gives you access to hundreds of modded, tweaked, and hacked apps for free. One among them is Twitter++ for iOS. AppValley is the best among the app installers and lets you download modded apps safely on your iOS devices. Given below is a simple procedure to get Twitter++ using AppValley.
Firstly, you need to download AppValley for iOS on your device. You can download it safely from the link mentioned below.
Open the link using the Safari browser. You will be redirected to the home page of the official AppValley website. Tap on the Install option and the download process will begin.
Once the download is over, you are required to change certain settings. For this, you need to open Settings, go to Profile and Device Management and then tap on Trust AppValley option to enable it.
Now you need to open AppValley and search for Twitter++ on the Search bar at the top of the screen.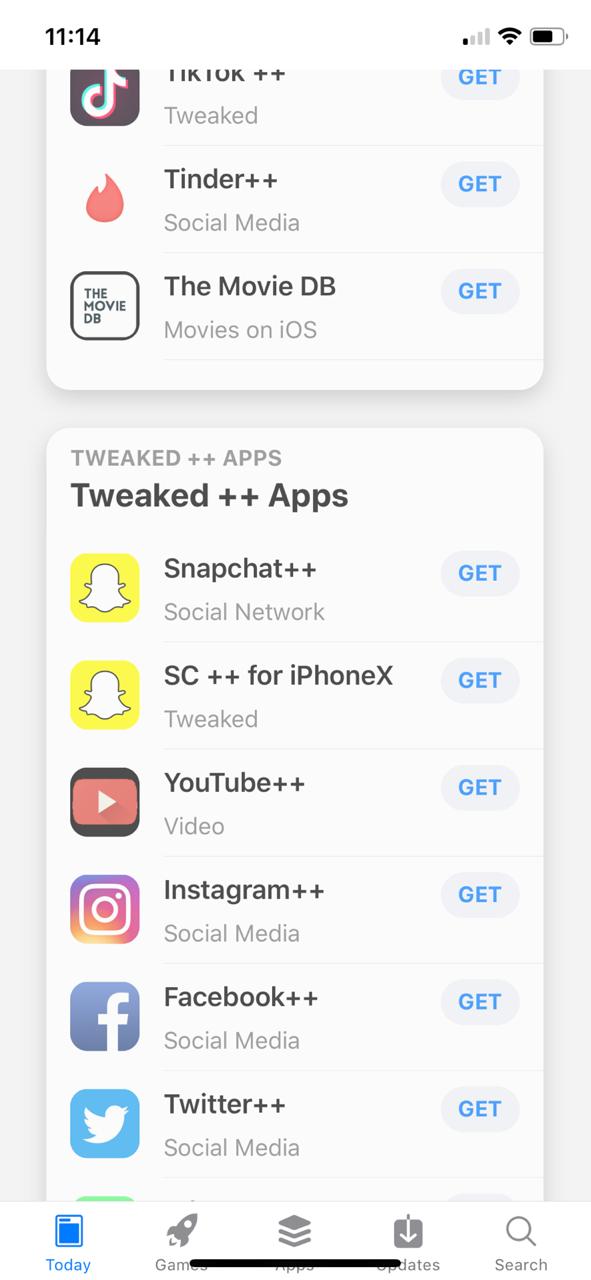 The app, along with the description and a Get/Install option will show up.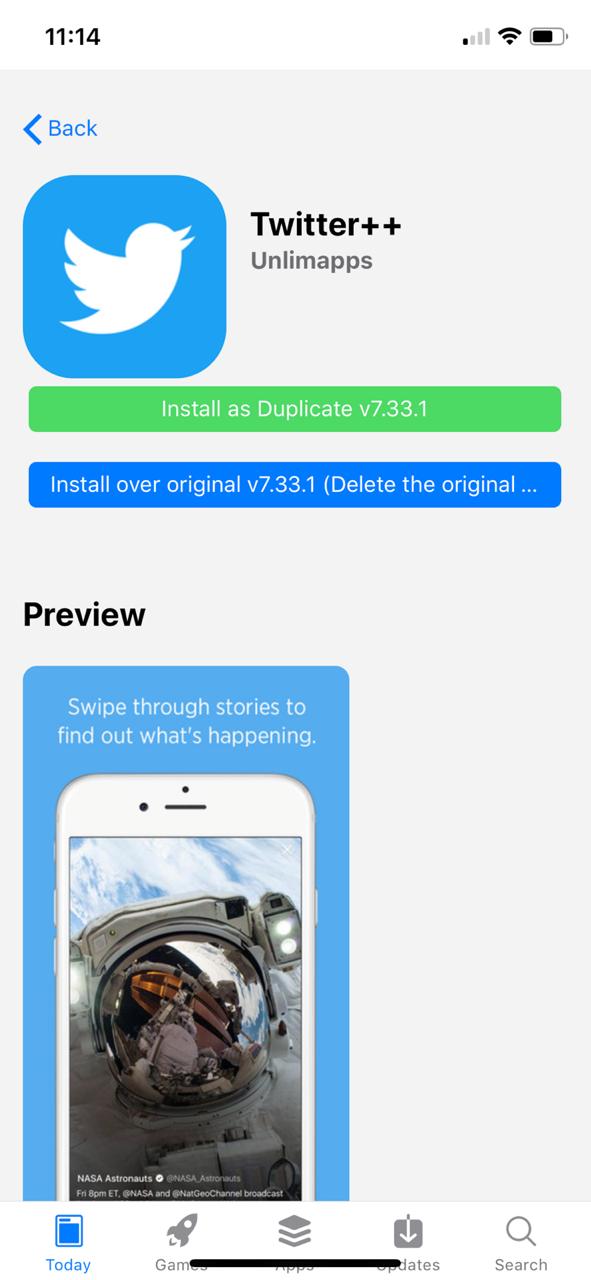 Tap on the Get/Install option and the installation will begin.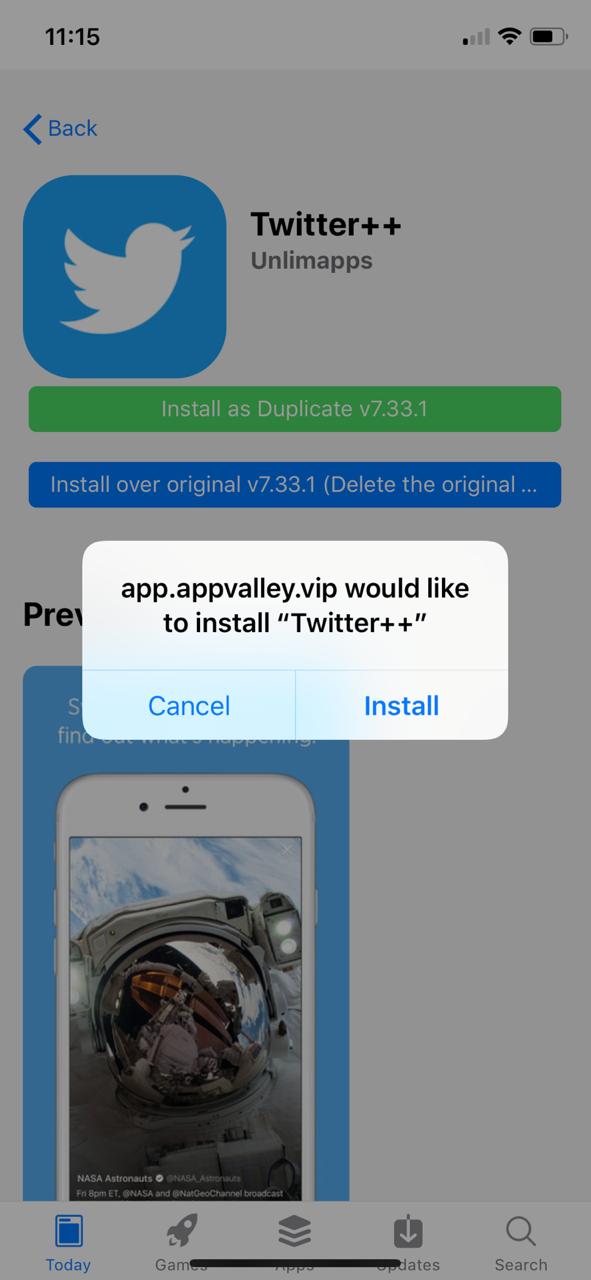 Once you are done with the installation, you need to Trust Twitter++ by going to Settings. Tap on Profile and Device Management and then enable Trust Twitter++ option.
Twitter++ on iOS using IPA Method:
Here are the steps to install Twitter++ on your iOS device using Cydia Impactor. Cydia Impactor is a tool used to install IPA files on your iOS device.
First, you have to download the IPA file of Twitter++ on your PC.
To install the IPA file you need to install download and install the Cydia impactor. You can download Cydia impactor from cydiaimpactor.com.
Plug in your iOS device to your PC (Connect via USB cable).
After plugging in, launch the Cydia Impactor on your PC.
Now go to the downloads folder where the Twitter++ IPA file is located.

You have to drag and drop the downloaded IPA file on the Cydia impactor.

Once you drop the IPA file, Cydia Impactor will prompt you for Apple user ID and Password. You may give enter your official Apple ID or a spare ID.

Now the Twitter++ app will be installed on your mobile. Open the settings in your iOS mobile and go to settings. In the settings, choose General.
In general, click on "Profile and Device management". Click on the trust button near the Twitter++ app.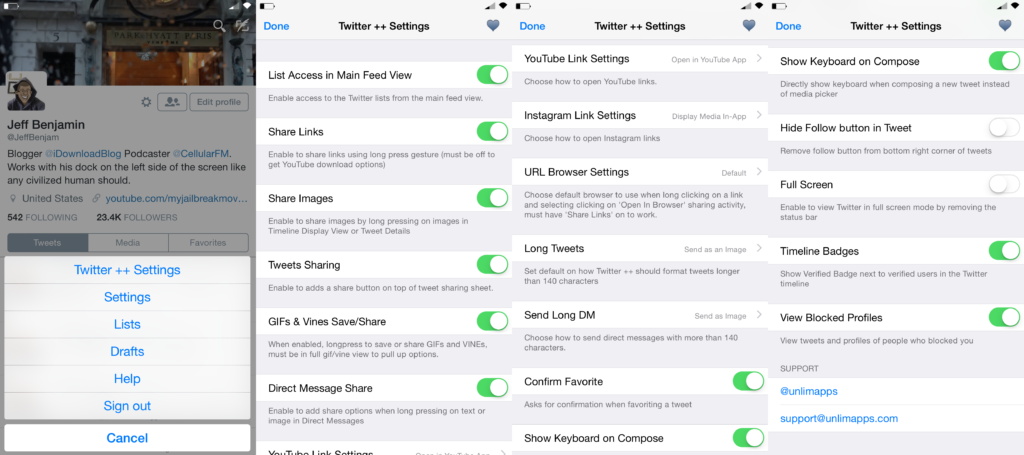 The Twitter++ app is now ready to use. Launch the app and enjoy.
Twitter++ Alternatives on iOS
Twitter is an amazing update providing social media platform used by majority of offical people. You may find many celebrities or companies sharing updates through this platform. But indeed, it is boring to use Twitter sometimes, right? Do not worry, we are here to buckle up your taste. Here are some amazing alternatives for Twitter++ on iOS.
Instagram++
The modern generation social media platform, Instagram, comes with a lot of features that are hardly to avoid. You can share media content and text your friends at the same time. The platform is meant to build fan use using photos and videos.
TikTok++
This amazing application took charge in 2019 and has been trying to rule ever since. You can share minute long video on this platform, and people can watch your content. TikTok is used by content creators as an opportunity.
Facebook++
Facebook has been one of the oldest social media platforms ever. People are using it to communicate globally. As their tagline says, the application is to connect people around the world.
Pinterest++
Pinterest in another amazing alternative for Twitter. If you love to see new ideas and explore imagination, then this platform is a perfect choice.
How to uninstall Twitter++ on your device?
If you really want to uninstall this modded version of Twitter++ and install the original version, follow the steps:
Go to the homepage.
From there, just go to the deck where you can find Twitter++.
Now Tap and hold the icon.
You will get an option to delete the Application.
Click on it and you are done!.
Twitter++ – FAQs
What is the advantage of using Twitter++?
Twitter++ is a tweaked app that lets you access the app easily. It provides a better user interface for Twitter from which you can easily share media files, post links to other app platforms, download posts, etc. You can connect with more people and improve your profile.
Is Twitter++ free to use?
Yes, Twitter++ offers all the features for free. You can easily share and download contents and posts with this amazing mod.
How to download posts from Twitter?
The best way to download media and other posts from Twitter is by using Twitter++. You can directly download and send them to whoever you want with this app.
Does Twitter++ provide verification of your profile?
Of course, yes. Twitter++ can help you get the profile verified easily. This increases the number of followers and makes your posts reach more users.
Check this out:
 Download Twitter++ on iOS – Conclusion
You are done! Downloading apps using AppValley is that easy. You will get many third-party apps for free on your iOS devices using this great app installer. Do install Twitter++ and many more for iOS using AppValley.